Protests urge fracking fluid ban
, , PBS | Innovation Trail, (2011)

Protestors outside the Buffalo offices of the Department of Environmental Conservation today called for an executive order by Governor Andrew Cuomo to define fracking fluid as a hazardous waste and ban its treatment by municipal facilities...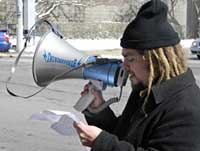 Can local facilities adequately treat fracking fluid?
Small local facilities cannot adequately purify fracking fluid because it contains hundreds of chemicals, including known carcinogens, according to Rita Yelda of the Buffalo chapter of Frack Action, which organized the protest.
Yelda says water is also at risk because layoffs at the DEC could compromise the agency's work to address fracking issues.