Big Polluters Freed from Environmental Oversight by Stimulus - The Center for Public Integrity
, , The Center for Public Integrity, (2010)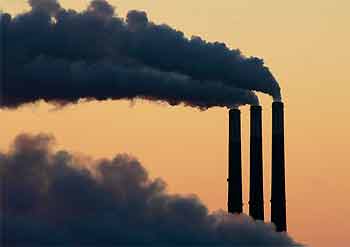 Silhouetted against the sky at dusk, excess steam, along with non-scrubbed pollutants, spew from the smokestacks at Westar Energy's Jeffrey Energy Center coal-fired power plant near St. Marys, Kan. Credit: AP Photo/Charlie Riedel.
In the name of job creation and clean energy, the Obama administration has doled out billions of dollars in stimulus money to some of the nation's biggest polluters and granted them sweeping exemptions from the most basic form of environmental oversight, a Center for Public Integrity investigation has found.
The administration has awarded more than 179,000 "categorical exclusions" to stimulus projects funded by federal agencies, freeing those projects from review under the National Environmental Policy Act, or NEPA. Coal-burning utilities like Westar Energy and Duke Energy, chemical manufacturer DuPont, and ethanol maker Didion Milling are among the firms with histories of serious environmental violations that have won blanket NEPA exemptions...
...Documents obtained by the Center show the administration has devised a speedy review process that relies on voluntary disclosures by companies to determine whether stimulus projects pose environmental harm. Corporate polluters often omitted mention of health, safety, and environmental violations from their applications.
Related Stories:
NEPA Exemptions: The Dirty Dozen List
Wisconsin Firm Receives Energy Grant Despite Chronic Pollution Problems
See: Pollution in Your Community | Scorecard
See: A Life's Value May Depend on the Agency, but It's Rising
See: Climate Co-benefits and Child Mortality Wedges
See: U.S. Environmental Protection Agency (EPA): Hydraulic Fracturing Study (2010-2012)