Blue Covenant: The Global Water Crisis and the Coming Battle for the Right to Water
, , (2009)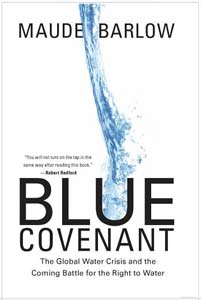 This is an expert's view of our worldwide water crisis. References to facts are found in the back of the book making for an uncluttered read in language everyone can understand. Follow some of the stories about the World Bank and many other reversals of corporate efforts to privatize what ought to be a basic human right: clean water.
Hydraulic fracturing uses five million gallons per well with tens of thousands of wells planned for the Marcellus Shale. Water resources in "shale plays" are already threatened by mining operations and weak environmental justice. These invaluable resources need public protection. Volunteer regulation does not work.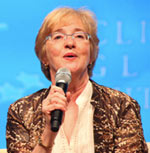 See: Maude Barlow. Feb. 25, 2008. Foreign Policy In Focus. "The Global Water Crisis and the Coming Battle for the Right to Water."
See: Amy Goodman and Juan Gonzalez. "From Melting Glaciers to Structural Adjustment: Maude Barlow on the Need for Water Justice." Democracy Now! April 22, 2010.
See: Flow - The War Between Public Health and Private Interests
See: WATER: Rulings Restrict Clean Water Act, Foiling E.P.A.