Drilling blamed for Java mud leak
, , BBC News | Asia-Pacific, (2007)

BBC. January 24, 2007. A mud flow that has displaced thousands of Indonesians was most probably caused by gas drilling, scientists say.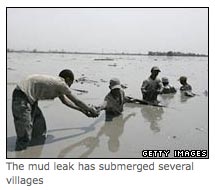 See: Davies, R. J, R. E Swarbrick, R. J Evans, and M. Huuse. 2007. "Birth of a mud volcano: East Java, 29 May 2006." GSA Today 17, no. 2: 4–9.
See below: Hardiyan Digwiyono. (2006). "Children in the Hot Mud Volcanoes". YouTube.
Watch the related videos that follow this one minute film.