Seeing Red in Hungary | The Secrets of the Sludge
, , The New York Times, (2010)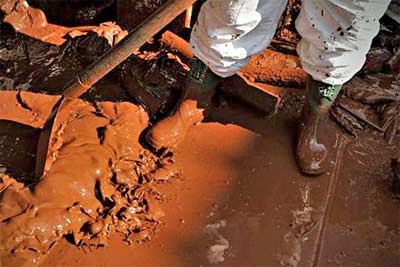 A Hungarian soldier, wearing protective gear, cleans a house flooded by toxic mud in Devecser, Hungary, Thursday, Oct. 7, 2010. (AP Photo/Bela Szandelszky)
Red tire marks line the roads leading up to the extinct Somlo volcano, home to Hungary's smallest wine region and only a few miles from the worst environmental disaster in the country's history.
It has been almost two weeks since a concrete dam holding back millions of gallons of toxic sludge burst, sweeping two villages along with it and killing nine people. The fields are still red, eerily outlined in chalky white — the gypsum that emergency crews used to try to neutralize the caustic grime...
...What exactly is this sludge stored in reservoirs across this part of Hungary by the hundreds of millions of cubic feet?
...The sinister sound of the sludge sloshing around the edge of the shovel blade lingers in the ear, and makes the initial lack of reliable information more painful.
Soon after the spill, the Hungarian Academy of Sciences declared that the red sludge was nontoxic. The chief executive of MAL went on camera to say it was a completely harmless substance, that it could simply be washed away with water.
They were quickly proved wrong. The first responders suffered severe burns; apparently no one warned them that the sludge had a pH of 13, as caustic as lye.
The gap between the official statements and the reality of people dying seemed to widen the crack in the wall. For many, it brought to mind the time, thought long past, when so much of life in Hungary was defined by rumors and lies, when everything was a game of pretend and make-believe.
See: Onshore Drilling Disasters Waiting to Happen: An Interview With 'Gasland' Director Josh Fox | The Nation