The Effect of the United States Supreme Court's Eleventh Amendment Jurisprudence on Clean Water Act Citizen Suits: Muddied Waters
, , Oregon Law Review, Volume 83, p.47 - 106, (2004)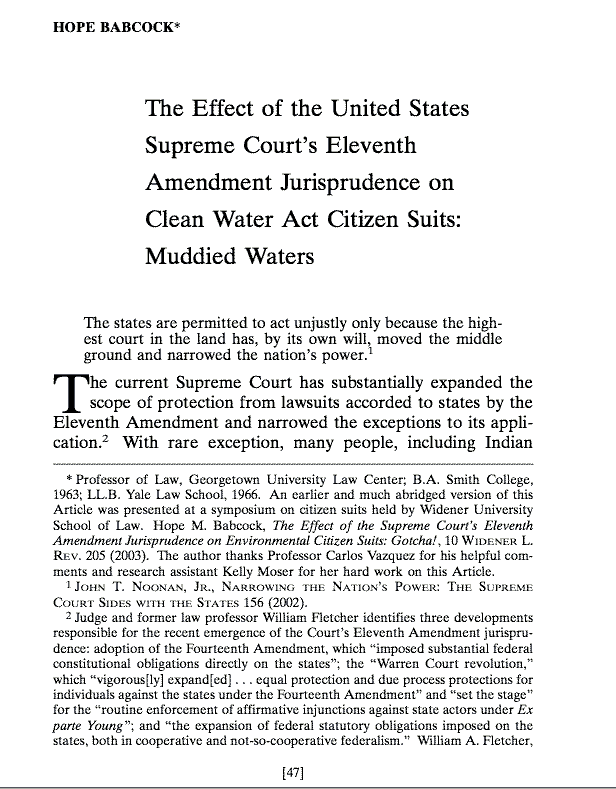 According to the website, Endangered Environmental Laws, "...over time, courts have transformed [the Eleventh Amendment] into a sweeping doctrine of state "sovereign immunity," unmoored from the Constitution's text, and in recent years, a conservative bloc of the Supreme Court has further expanded states' immunity from private lawsuits.
In the environmental context, this has led to near-total immunity of state agencies from citizen suits under the federal coal-mining statute; to similar challenges (so far unsuccessful) to citizen litigation under the Clean Air Act and the Endangered Species Act; and to dismissal of state employees' whistleblower complaints under the Solid Waste Disposal Act and other laws."
"The states are permitted to act unjustly only because the highest court in the land has, by its own will, moved the middle ground and narrowed the nation's power.
With rare exception, many people, including Indian tribes, federal employees, patent holders, the elderly, and the disabled, find themselves unable to vindicate rights granted by federal laws in any court when the defendant is a state or a state agency."
Babcock, H. "Effect of the United States Supreme Court's Eleventh Amendment Jurisprudence on Clean Water Act Citizen Suits: Muddied Waters, The." Oregon Law Review 83 (2004): 47.
See: Rulings Restrict Clean Water Act, Foiling E.P.A.
See: Activists Block Entrance to DEP Headquarters, Condemn Failed Enforcement