WATER | FRONTLINE: Poisoned Waters
, , Public Broadcasting Service Frontline, (2009)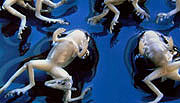 More than three decades after the Clean Water Act, iconic American waterways like the Chesapeake Bay and Puget Sound are in perilous condition and facing new sources of contamination.
With polluted runoff still flowing in from industry, agriculture and massive suburban development, scientists note that many new pollutants and toxins from modern everyday life are already being found in the drinking water of millions of people across the country and pose a threat to fish, wildlife and, potentially, human health.
In Poisoned Waters, Pulitzer Prize-winning journalist Hedrick Smith examines the growing hazards to human health and the ecosystem...
...In addition to assessing the scope of America's polluted-water problem, Poisoned Waters highlights several cases in which grassroots citizens' groups succeeded in effecting environmental change: In South Park, Wash., incensed residents pushed for better cleanup of PCB contamination that remained from an old asphalt plant. In Loudon County, Va., residents prevented a large-scale housing development that would have overwhelmed already-strained stormwater systems believed to contribute to the contamination in Chesapeake Bay.
See Credits.