Land Board approves Otter Creek coal lease
, , Billings Gazette, (2010)

Mike Dennison. March 18, 2010. Billings Gazette.
"The state Land Board, undeterred by anti-mining protesters who disrupted the board's Helena meeting for 45 minutes until they were arrested, voted 3-2 Thursday to approve leasing 570 million tons of state-owned coal for development of a mine in southeastern Montana's Otter Creek Valley.
The vote by the five-member Land Board approved an $85.8 million up-front bid on the coal by Arch Coal Inc., giving the St. Louis-based mining giant a 10-year window to develop a mine in the pristine valley 150 miles east of Billings.
Gov. Brian Schweitzer, who voted for leasing the coal, extolled the long-term economic benefits of a new coal mine in the valley, saying it would bring $5 billion in tax revenue and royalties over the life of a mine and approximately $250 million a year once the mine is operating...
...The vote came after five protesters disrupted the meeting by chanting "Hands off Otter Creek — you're not listening!" as McCulloch made a motion to vote to approve the lease.
The protesters, who had been sitting in the front row of chairs in the packed meeting room, stood and then linked arms as they sat on the floor, chanting, about 20 feet from the board members.
Schweitzer recessed the meeting and Helena Police officers ordered the room cleared, as they waited for other officers to arrive and assist with arresting the protesters. About 45 minutes later, police had handcuffed and arrested the protesters and taken them to the Lewis and Clark County jail to book them on misdemeanor charges of disorderly conduct."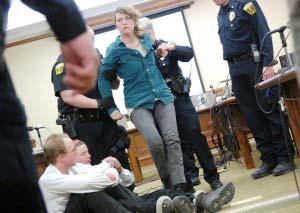 Genevieve Schroder is removed from the State Land Board meeting Thursday in the Capitol. Schroder and four other Missoula residents were arrested after protesting the leasing of the state-owned Otter Creek coal. (Courtesy photo)