WENY-TV News. April 28, 2010. "Some Northern Tier Residents Voice Concerns About Natural Gas Drilling Through a Blog"
, , WENY-TV News, (2010)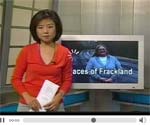 Jane Park.
Interview with blogger Elizabeth Berkowitz.
Cindy Kalbach and her husband have lived in Gaines for 10 years, enjoying the quiet wilderness. But that's become a lot harder because of increasing drilling activity. With wells as close as a mile away, trucks from gas companies are ravaging their roads, kicking up dust, driving away wildlife and keeping the Kalbachs indoors. Kalbach refuses to lease her land to gas companies, but some of her neighbors haven't been able to resist the offers. People around here are very low income. They just want to live here in peace, you know? And that's a lot of money to them. they don't realize what they're getting into,said Kalbach. Kalbach took her concerns to Elizabeth Berkowitz, an avid blogger who started Faces of Frackland to give a voice to people who feel like no one is listening.