U.S. Geological Survey (USGS): Water Resources and Natural Gas Production from the Marcellus Shale
, , (2009)
Daniel J. Soeder and William M. Kappel. "Water Resources and Natural Gas Production from the Marcellus Shale". U.S. Department of the Interior, Fact Sheet 2009-3032, May 2009. U.S. Geological Survey (USGS), 2009. (PDF)
See Figure 7: Example of a gel used in hydrofracturing to carry proppant into a fracture. Photograph by Daniel Soeder, USGS. Page 5.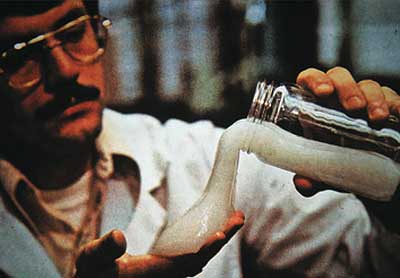 See also:
Milici, Robert C. (2005). Assessment of undiscovered natural gas resources in Devonian black shales, Appalachian basin, eastern U.S.A.: American Association of Petroleum Geologists Abstracts Volume for the AAPG 2005 Annual Convention, p. A93.
Milici, Robert C. and Christopher S. Swezey. (2006) Assessment of Appalachian Basin Oil and Gas Resources: Devonian Shale–Middle and Upper Paleozoic Total Petroleum System.
"The U.S. Geological Survey (USGS) recently completed an assessment of the technically recoverable undiscovered hydrocarbon resources of the Appalachian Basin Province. The assessment province includes parts of New York, Pennsylvania, Ohio, Maryland, West Virginia, Virginia, Kentucky, Tennessee, Georgia and Alabama."