WATER: In the West, a Water Fight Over Quality, Not Quantity
Publication Type:
Newspaper Article
Source:
The New York Times (2006)
ISBN:
0362-4331
URL:
http://www.nytimes.com/2006/09/10/us/10river.html
Keywords:
press
Notes:
Jim Robbins.  September 10, 2006.  New York Times.
It is a strange fight, Montana ranchers say. Raising cattle here in the parched American outback of eastern Montana and Wyoming has always been a battle to find enough water.
Now there is more than enough water, but the wrong kind, they say, and they are fighting to keep it out of the river.
Mark Fix is a family rancher whose cattle operation depends on water from the Tongue River. Mr. Fix diverts about 2,000 gallons per minute of clear water in the summer to transform a dry river bottom into several emerald green fields of alfalfa, an oasis on dry rangeland. Three crops of hay each year enable him to cut it, bale it and feed it to his cattle during the long winter.
"Water means a guaranteed hay crop," Mr. Fix said.
But the search for a type of natural gas called coal bed methane has come to this part of the world in a big way. The gas is found in subterranean coal, and companies are pumping water out of the coal and stripping the gas mixed with it. Once the gas is out, the huge volumes of water become waste in a region that gets less than 12 inches of rain a year.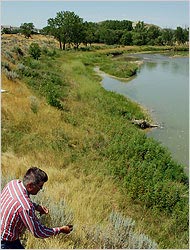 Anne Sherwood for The New York Times
Mark Fix, a cattle rancher in eastern Montana, diverts about 2,000 gallons per minute of Tongue River water in the summer to grow hay for his livestock. But increased sodium in the water could endanger his hayfields.
See: Molly Ivins. (2004) C-Span Book TV Oct. 2, 2004. Bushwacked: Life in George W. Bush's America.  Chapter: "Dick, Dubya, and Wyoming Methane." (152)