U.S. Republican Leader John Boehner | One Year After the Offshore Drilling Ban was Lifted, Democrats Continue to Oppose More American Energy, New Jobs
Publication Type:
Web Article
Source:
GOP Leader Blog (2009)
URL:
http://www.speaker.gov/Blog/?postid=188156
Keywords:
government
Notes: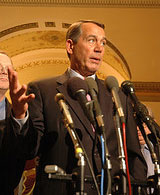 House Republican Leader John Boehner's blog. Posted by Kevin Boland on July 14th, 2009.
Boehner said, "Democrats talk about creating jobs - but Speaker Pelosi's national energy tax will cost 2.5 million American jobs each year and will punish every American who dares to flip on a light switch or drives a car.
Democrats are also floating a half-a-trillion dollar tax hike on small businesses as part of their trillion-dollar government-run health care proposal, another sure job-killer."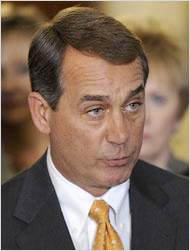 Boehner was first elected to Congress in 1990, representing a district that includes parts of the suburbs of Cincinnati and Dayton. As a member of Gang of Seven, a group of G.O.P. freshman reformers who demanded that the names of colleagues who had overdrafts at the House bank be made public, Mr. Boehner angered Congressional veterans.
But he quickly became a top lieutenant of Newt Gingrich, the Republican leader in the House who became speaker when the party took control in 1994. Mr. Boehner helped to draft and champion the party's Contract With America. Read More...
For the other side of the Energy Debate, see Speaker of the House Nancy Pelosi's (D-CA) Newsroom Web Page, and her blog, The Gavel-Draining the Swamp.