U.S. Department of Energy - Homepage
Publication Type:
Web Article
Source:
U.S. Department of Energy (2010)
URL:
http://www.energy.gov/
Keywords:
government
Notes:

U.S. Department of Energy (DOE): E and P Focus: Summer 2009 Oil and Gas Program Newsletter. 28 pages.
Sample the Electronic Newsletter above featuring articles on industrial development of natural gas to gain a perspective on how government energy policy is crafted.

U.S. Department of Energy (DOE), Energy Information Administration. Report #:DOE/EIA-0484(2009).
Much of the increase in U.S. natural gas reserves results from expanded knowledge and exploration of shale resources.
World marketed energy consumption increases by 49 percent from 2007 to 2035 in the Reference case.
Total energy demand in non-OECD countries increases by 84 percent, compared with an increase of 14 percent in OECD countries.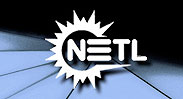 NETL Oil & Natural Gas Technologies Reference Shelf. Recently released and in-demand reference materials are available directly from this page using the links on this website.
The National Energy Technology Laboratory (NETL), part of DOE's national laboratory system, is owned and operated by the U.S. Department of Energy (DOE). NETL supports DOE's mission to advance the national, economic, and energy security of the United States.