Senators Want to Bar E.P.A. Greenhouse Gas Limits
Publication Type:
Newspaper Article
Source:
The New York Times (2010)
ISBN:
0362-4331
URL:
http://www.nytimes.com/2010/01/22/science/earth/22climate.html?_r=1
Keywords:
government
Notes:
By JOHN M. BRODER, New York Times, January 21, 2010.  "In a direct challenge to the Environmental Protection Agency's authority, Senator Lisa Murkowski, Republican of Alaska, introduced a resolution on Thursday to prevent the agency from taking any action to regulate carbon dioxide and other climate-altering gases."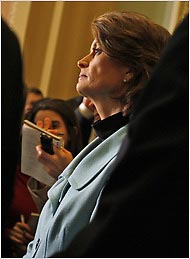 Ruth Fremson/The New York Times
Senator Lisa Murkowski is challenging the authority of the Environmental Protection Agency.