Gas Drilling Trucks
Publication Type:
Web Article
Source:
Marcellus-Shale.us (2010)
URL:
http://www.marcellus-shale.us/Frac-Truck-photos.htm
Keywords:
background
Notes: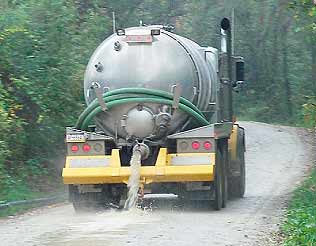 Frac Trucks... some call them soup trucks, kettle trucks or frack trucks. Some of these tanker trailers are used to haul frac sand or cement for gas well casings. Whatever the name or use of these various trucks, they usually catch your attention when they are parked roadside or travelling down the highway as oversize loads.
All kinds of weird plumbing, pipes and gauges not seen in everyday life. Some carry containers of frac fluids or other devices that you never saw anything quite like before. Equipment used for installing and fracking Marcellus Shale gas wells.