Former Bush EPA Official Says Fracking Exemption Went Too Far
Publication Type:
Web Article
Source:
ProPublica (2011)
URL:
http://www.propublica.org/article/former-bush-epa-official-says-fracking-exemption-went-too-far
Keywords:
press
Notes:

When Benjamin Grumbles was assistant administrator for water at the Environmental Protection Agency in the George W. Bush administration, he oversaw the release of a 2004 EPA report that determined that hydraulic fracturing was safe for drinking water. Then he watched as Congress used those findings to bolster the case for passing a law that prohibited the EPA from regulating fracking under the Safe Drinking Water Act.
In two interviews with ProPublica -- the first on June 29, 2009, soon after he left the EPA, and the second on March 5, 2011 -- Grumbles ponders the criticism leveled at the 2004 study and suggests that it's now time for Congress and the EPA to take another look at hydraulic fracturing. Our questions, and his answers, have been combined and edited for length to the version you see here.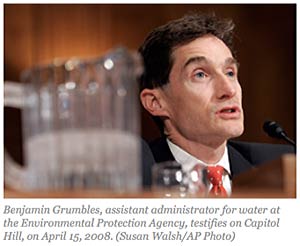 Grumbles is currently on the board of the Clean Water America Alliance, a group focusing on water sustainability issues. He has also served as head of Arizona's Department of Environmental Quality.