Energy Policy Act of 2005
Publication Type:
Statute
Source:
p.551pp. (2005)
URL:
http://www.epa.gov/oust/fedlaws/publ_109-058.pdf
Keywords:
government
Notes: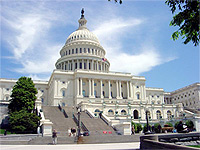 The Energy Policy Act of 2005 (P.L. 109-58), signed by President Bush on August 8, 2005, was the first omnibus energy legislation enacted in more than a decade. Spurred by rising energy prices and growing dependence on foreign oil, the new energy law was shaped by competing concerns about energy security, environmental quality, and economic growth.
The Energy Policy Act encourages production on federal lands through royalty reductions for marginal oil and gas wells on public lands and the outer continental shelf. Provisions are also included to increase access to federal lands by energy projects — such as drilling activities, electric transmission lines, and gas pipelines.
In addition, the law prevents the Environmental Protection Agency (EPA) from regulating hydraulic fracturing to protect drinking water sources.
(For additional information, see CRS Report RL32873, Key Environmental Issues in the Energy Policy Act of 2005, coordinated by Brent D. Yacobucci, and CRS Report RL32262, Selected Legal and Policy Issues Related to Coalbed Methane Development, by Aaron M. Flynn.)
See: CRS Report RL33302.