Drilling Down on Fracking Concerns
Publication Type:
Web Article
Source:
Center for American Progress (2011)
URL:
http://www.americanprogress.org/issues/2011/03/fracking_concerns.html
Keywords:
experts
Notes: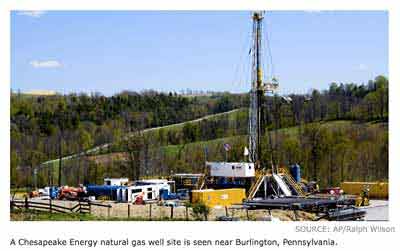 Download this brief (pdf)
A widely used oil-and-gas drilling technique, hydraulic fracturing, is spreading rapidly to develop vast reserves of natural gas trapped in deep underground shale formations.
Hydraulic fracking, however, is coming under more rigorous oversight by the press and state and federal agencies because of its contribution to air and water pollution.
This attention is welcome, both to ensure that health and safety will be protected if gas is to be more widely used as a cleaner replacement for coal in electric plants and foreign oil as a transportation fuel. We must also more accurately measure carbon dioxide and other pollution from the combustion of gas compared to coal and oil.
This issue brief explores the ecological and economic issues of "fracking," as it is increasingly coming to be known in the areas of the country where natural gas is tapped due to the technology. Cutting to the chase, our conclusion is this—hydraulic fracturing needs to be done carefully and be well-monitored, with particular attention paid to the full scope of carbon dioxide released into our atmosphere to gauge accurately the consequences of global warming due to the expanded use of natural gas.
...Concerns about this technique led late last year to a partial moratorium in New York state on new drilling permits that allow fracking. Nationally, advocates want to repeal a 2005 congressional exemption of fracking from oversight under the Safe Drinking Water Act. Many activists also want to require drilling companies to publicly disclose the chemicals it uses, as other industries do under the Community Right to Know law. Industry historically resists such calls, though a number of companies have recently dropped their opposition, saying they will publicize the chemicals they use.
These natural gas operations also produce smog-forming pollutants, contributing to air pollution problems in places such as western Wyoming and the Fort Worth area. Indeed, natural gas wells produce so much air pollution that smog in the area around Pinedale, Wyoming is sometimes as bad as in Los Angeles. And these shale gas wells can release fugitive methane, which is a potent global warming pollutant.
In a recent investigation, for example, The New York Times reported on rivers and waterways that serve public water systems in Pennsylvania being contaminated with naturally occurring radioactive materials, such as radium, as a result of drilling activities. The series has also raised serious questions about the adequacy of oversight by state and federal agencies including the Environmental Protection Agency.
Tom Kenworthy is a Senior Fellow at the Center for American Progress who focuses on energy and environmental issues. Daniel J. Weiss is a Senior Fellow and Director of Climate Strategy at the Center. Lisbeth Kaufman is a Special Assistant with the Center's Energy team, and Christina C. DiPasquale is Associate Director of Press Relations at the Center.