Christopherson to study economic impact of gas drilling in Marcellus Shale
Publication Type:
Web Article
Source:
AAP News | College of Architecture, Art & Planning | Cornell University (2010)
URL:
http://aap.cornell.edu/news/newsitem.cfm?customel_datapageid_2892=396599
Keywords:
experts
Notes: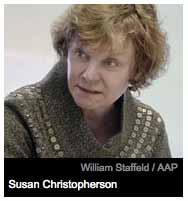 Susan Christopherson, J. Thomas Clark Professor of City and Regional Planning, has received a $100,000 grant from the Ithaca-based Park Foundation to study the economic effects of the proposed drilling in the Marcellus Shale, a rock formation that extends from New York south into Pennsylvania, Ohio, and West Virginia.
Christopherson has proposed conducting a $300,000 study that will examine issues such as the effects of the increase in gas drilling on schools, public health, and transportation systems.
The research project will be supported by several funders. "The question is, 'What is going to be the cumulative effect of this kind of activity?'" says Christopherson, who specializes in economic development. "People are looking at this question from an environmental perspective, but no one is looking at it from an economic perspective."
Christopherson worries about a "boom town" effect created by the surge of companies that want to extract natural gas from the Marcellus Shale. "We have had these periodically in the U.S. like the Gold Rush, where you get lots of people coming into an area in order to extract natural resources and then leaving," she says.
Her hope is that the gas drilling could create a long-term investment in the economy of the Southern Tier. "I think they could do that," she says, "but it has to be done very carefully. There has to be careful planning for the economy and to protect the environment. What people rarely recognize is that good environmental planning will also produce better economic outcomes."