Bill McKibben: WikiLeaks Cables Confirm U.S. "Bullying and Buying" of Countries during COP15 Was Worse than Realized
Publication Type:
Web Article
Source:
Democracy Now! (2010)
URL:
http://www.democracynow.org/blog/2010/12/6/bill_mckibben_wikileaks_cables_confirm_us_bullying_and_buying_of_countries_during_cop15_was_worse_than_realized
Keywords:
experts
Notes: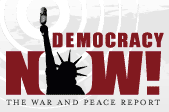 Democracy Now! caught up with McKibben at the Cancún Climate Conference in Mexico. We asked for his reaction to the diplomatic cables released by WikiLeaks showing how the U.S. manipulated last year's climate talks in Cancún.
Some of the new data [Wikileaks] coming out today makes it clear that everyone's suspicion that the U.S. was both bullying and buying countries into endorsing their do-little position on climate were even sort of worse than we had realized...
...They [The U.S. Congress] think because they can change the tax code, they can change the laws of nature...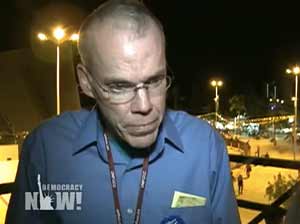 ...this U.N. process, has been going on forever, and it's getting nowhere, and it's not going to get anywhere substantive, until we have some power from the outside to push it.
"It's just like a family reunion aboard the Titanic, you know?" And that's sort of what it feels like. We can't keep doing this. Until we can build some power outside of these arenas to actually push these guys, you know, this is—in the end, it's not about how well people are communicating or how great the policy papers are. It's on who has the power. And at the moment, that power rests in the hands of the fossil fuel industry and their allies in governments around the world.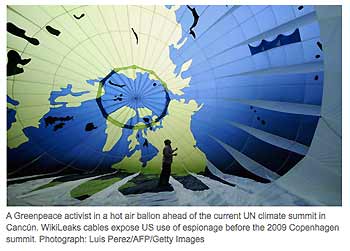 And until we build some independent outside movement power to push back, then we're never going to get—we're going to get scraps from the table, at the very best.
See: Damian Carrington. "WikiLeaks cables reveal how US manipulated climate accord." The Guardian.co.uk. 2010-12-03.
See: Ian Traynor. "WikiLeaks cables: Cancún climate talks doomed to fail, says EU president." The Guardian.co.uk. 2010-12-03.