Big Boys in Tulsa
Publication Type:
Video Recording
Source:
xtranormal (2010)
URL:
http://www.xtranormal.com/watch/7437597/
Keywords:
opinion
Notes:
Big boys in Tulsa
by: stopcompressors
Discussion at an imaginary natural gas exploration and production company headquarters.
This video by StopCompressors was Posted by Flower Mound Citizens Against Urban Drilling.
Our Mission: To work in a legal, ethical, and civil manner to stop urban gas drilling in the highly residential areas of North Texas. We are not against all gas drilling, but rather that which will adversely affect the public safety, the enjoyment of our homes, and our overall quality of life. We support the need for better regulation and accountability of the Oil & Gas Industry in rural and urban areas of Texas.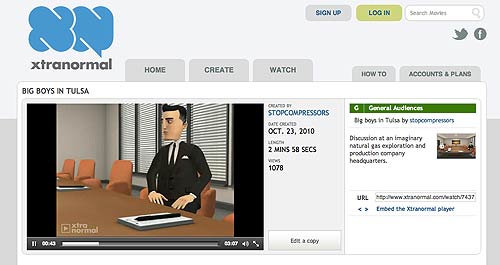 xtranormal's mission is to bring movie-making to the people. Everyone watches movies and we believe everyone can make movies. Movie-making, short and long, online and on-screen, private and public, will be the most important communications process of the 21st century.
xtranormal's revolutionary approach to movie-making builds on an almost universally held skill—typing. You type something; we turn it into a movie. On the web and on the desktop.