Freedom of Information in the USA
, , IRE (Investigative Reporters and Editors) Journal, (2002)

Here's why they did the survey.
There are probably no more important reforms to government than the ones that came with the passing of the Federal Freedom of Information ("FOI") Act. The law recognized in no uncertain terms that if government is to be of the people, by the people and for the people, the decisions and actions of the government must be open for review by the people.
The states, for the most part, followed the federal government in adopting open records laws.
Unfortunately, state FOI laws have proven to be almost uniformly weak and easy to undermine. The weakness and haphazard construction of the state laws has resulted in an information gap that significantly effects the citizenry's ability to examine even the most fundamental actions of government.
In the course of numerous investigations, Better Government Association investigators have been refused in our requests to review state contracts and performance measures, denied everything from documentation of ambulance response times to the documents reviewed when making budgeting decisions, and ignored by officials in nearly every major office at one time or another. Our experience told us that the FOI laws simply do not work very well in Illinois.
As a result of our hands-on experience with Illinois' lack of responsiveness, the BGA decided to find out where we stood in relationship to other states. We found that no one had completed any sort of national analysis of FOI laws, and that Illinois' relative strengths and weaknesses could not be measured without creating a new instrument to study the problem and without an analysis of each state's statutory provisions for FOI.

I was looking for the original article and ran this search on Google Scholar.
Staff: Terrance A. Norton, James M. Newcomb & Jay E. Stewart
Interns: Erika Washington and David Hall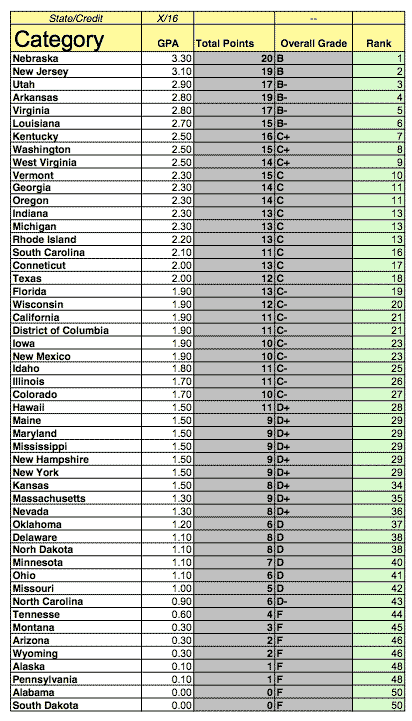 Alabama, Alaska, Arizona, Pennyslvania, Montana, South Dakota, Tennessee, and Wyoming all got a bit fat F.