American West at Risk, The: Science, Myths, and Politics of Land Abuse and Recovery
, , (2008)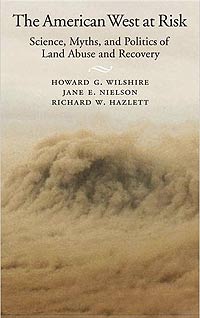 "The American West at Risk emphasizes the need for genuine concern for our precious soils, freshwater, and other environmental resources. As the authors document, we should be making every effort to conserve and protect all our vital natural resources, which indeed support human life."--David Pimentel, Cornell University
"If you wish to be informed, enraged, enlightened, and appalled about the American west, this is the book to read."--Journal of Environmental Quality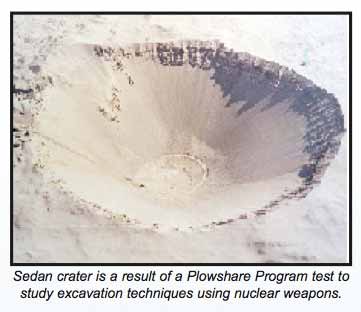 See: Gasbuggy Nuclear Test Site.
The Gasbuggy Nuclear Test Site is the location of a 1967 underground nuclear explosion, conducted to test the viability of using a nuclear device to aid in natural gas extraction. It was part of the Plowshare Program, the program to develop peaceful uses of nuclear weapons, and was the first use of a nuclear explosion for industrial purposes.
See: Google-eye view of a nuclear test site - Boing Boing
See: Appendix 7, p. 399.
Plowshare can help mankind reshape the earth into a Garden of Eden by overcoming the forces of nature.
-Glenn Seaborg, Man and Atom (1971)
The American West at Risk summarizes the dominant human-generated environmental challenges in the 11 contiguous arid western United States - America's legendary, even mythical, frontier. When discovered by European explorers and later settlers, the west boasted rich soils, bountiful fisheries, immense, dense forests, sparkling streams, untapped ore deposits, and oil bonanzas. It now faces depletion of many of these resources, and potentially serious threats to its few "renewable" resources.
See: Fracking for Natural Gas | The American West at Risk Blog.
See: Environment: Project Dubious (1973). Time.
See: Adam Lederer. Project Wagon Wheel.
Download: Bombs for Peace Moratorium Ends- Testing Begins (2.5 MB)
The American West at Risk chronicles the road our nation has taken to its current catastrophic environmental state. The authors tour the U.S. to discuss challenges our nation faces & examine viable solutions.