Scientific Study Links Flammable Drinking Water to Fracking
, , OnEarth Magazine, (2011)

For the first time, a scientific study, has linked natural gas drilling and hydraulic fracturing with a pattern of drinking water contamination so severe that some faucets can be lit on fire.
The peer-reviewed study, published today in the Proceedings of the National Academy of Sciences, stands to shape the contentious debate over whether drilling is safe and begins to fill an information gap that has made it difficult for lawmakers and the public to understand the risks...
They were alarmed by what they described as a clear correlation between drilling activity and the seepage of gas contaminants underground, a danger in itself and evidence that pathways do exist for contaminants to migrate deep within the earth.
"We certainly didn't expect to see such a strong relationship between the concentration of methane in water and the nearest gas wells. That was a real surprise," said Robert Jackson, a biology professor at Duke and one of the report's authors.
See: U.S. Congress. Committee on Space, Science, and Technology. "Hearing Highlights Lack of Objectivity in Draft EPA Fracking Study--No Evidence of Drinking Water Contamination from Fracking, Witnesses Say". May 11, 2011
Methane Fouls Water
See also: Ritter, Stephen K., and Glenn Hess. "Methane Fouls Well Water." Chemical & Engineering News, May 16, 2011.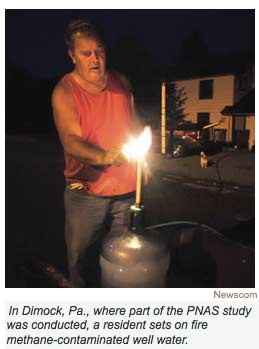 A study by Duke University researchers provides the first scientific confirmation of a link between natural gas drilling in organic-rich shale deposits and methane-contaminated residential well water. The study's release has rekindled the debate among the oil and gas industry, environmental advocacy groups, and lawmakers over health and safety concerns about natural gas drilling methods, which are largely unregulated.
When environmental chemist Robert B. Jackson and coworkers at Duke University sampled 68 residential wells in south central New York and northeastern Pennsylvania, they found no evidence that chemicals used in hydraulic fracturing—or fracking, the most widely used drilling method to extract methane from shale beds—had percolated into drinking water, as some fear.
The scientists instead found that water wells within 1 km of active gas extraction sites had methane levels of 19.2 mg/L on average, compared with 1.1 mg/L on average in wells in inactive areas farther from drilling sites (Proc. Natl. Acad. Sci. USA, DOI: 10.1073/pnas.1100682108). The federal methane action level is 10 mg/L, above which ventilation is recommended for safety...
Full Text:

Osborn, Stephen G., Avner Vengosh, Nathaniel R. Warner, and Robert B. Jackson. "Methane contamination of drinking water accompanying gas-well drilling and hydraulic fracturing." Proceedings of the National Academy of Sciences 108, no. 20 (May 17, 2011): 8172 -8176.